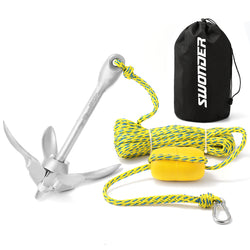 Kayak Anchor
Out of Stock
Description
Portable Anchor: This kayak anchor can be folded into 12 in x 3 in a compact size to secure you in one place while storing easily on your kayak when not in use, and slip into a full nylon storage bag that helps protect your paddleboard, kayak, or watercraft.

Versatile Anchor: The anchor kit is designed for use with paddleboards, kayaks, canoes, dinghies, inflatable boats, and other light watercraft. It is lightweight, compact, and made to withstand the tough environments where you decide to drop anchor.

Complete Kit: Includes a 3.5 lbs folding anchor, 40 ft of marine rope, marker buoy, snap hook, and a storage bag, a well-equipped kit to help you stay anchored in the water.

Anchor Anywhere: The four fluke anchor design offers a solid grip in most conditions, allowing it to catch on the sandy, muddy, rocky weed river bottoms. The anchor's sliding collar locks the flukes in an open position when deployed and keeps them against the shank when stowed.

High Visibility: Custom-made bright yellow color of the rope and the floating buoy is easy to spot in the water, the buoy makes it a quick and easy way to release your kayak from the anchor line when you need to. Once you're ready to return, simply paddle up to the buoy and reattach your kayak!